10 Things to Do Before Starfield Arrives
With the Starfield release date fast approaching for Xbox Series X, Xbox Series S, and Windows PC, it's time to start preparing for its arrival. Here, we outline a few things we think buyers need to do ahead of the game's arrival in September.
After several delays, Bethesda is finally ready to release Starfield, the company's first new developed intellectual property in over 25 years. It's arguably the most anticipated game of the year.
The Starfield release date is confirmed for September 6th though you can play it up to five days early if you pre-order a specific bundle.
We're just days away from its arrival which means it's time to start prepping. This goes for those who have pre-ordered and those who are on the fence right now.
With that in mind, we want to take you through a few things that will help players and prospective buyers in the run up to Starfield's release date in early September.
Check On Your Order
Make sure you keep tabs on your Starfield pre-order. You'll want to ensure your order status is still correct so you avoid release date headaches.
Dig into your pre-order and make sure your delivery information is up-to-date. If you've moved recently, you may have forgotten to change your address so be sure you do that.
You'll also want to make sure your payment information is correct because companies that didn't charge you up front will start charging for pre-orders as we get close to the release. If you're excited about the game the last thing you want is for your payment to bounce.
If you pre-ordered a Starfield Constellation edition, be extra careful. This bundle is extremely hard to find and if you want it on your doorstep in early September, you'll want to make sure everything is in order.
This is especially true now that Walmart has reportedly started cancelling some Constellation edition pre-orders. It's unclear as to why though it's certainly possible the retailer oversold its stock. We'll let you know when we learn more.
Track Constellation Edition Stock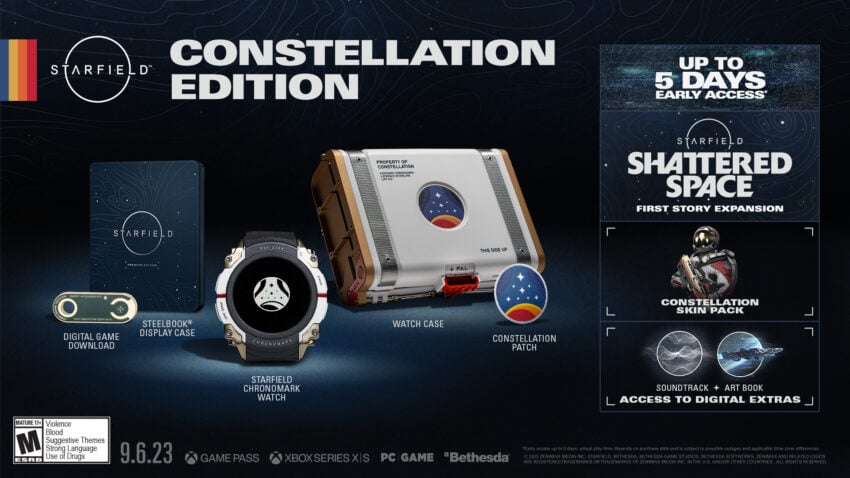 If you haven't managed to track down the Starfield Constellation edition yet, and you really want the collector's bundle, track its stock as we push toward the game's arrival.
We haven't seen a ton of new stock emerge in July, but we could certainly see retailers offer additional bundles as orders get cancelled or they find/get additional stock in their warehouse.
We've put together a guide that will help you track the Constellation edition stock and it's worth a look if you're interested in getting the bundle for release day delivery.
Pre-Load Starfield
If you want to jump into Starfield's world ASAP, you'll want to buy a digital copy of the game. This allows you to pre-load the game ahead of its release date.
If you wait until release day to download the game, you may run into abnormally long download times as players slam servers with requests.
The Starfield pre-load started on August 17th for Xbox and Windows. It begins on August 30th for Steam. For more about the pre-load and Starfield download, check out our guide.
Bethesda's confirmed Starfield's unlock times for regions around the world. If you pre-load the game, and you live on the west coast of the United States, you'll be able to start playing at 5PM on August 31st/September 5th.
Buy an External Hard Drive/SSD
Starfield require a huge chunk of space on your platform's storage. If you have a ton of available space on your internal storage, you should be good to go. If you don't, it might be a good idea to invest in an external hard drive.
There are a ton of options out there, but the Samsung T7 Portable SSD is one of our favorites. You'll also want to check out the WD My Passport 4TB.
If you plan to play the game on a Windows PC, note that Starfield requires an SSD to play. This is mandatory and not optional for PC gamers.
So if you're rocking an HDD, you'll need to upgrade your rig. We recommend taking a look at the Samsung 990 PRO Series or the WD_BLACK 1TB SN850X.
Can My PC Run Starfield?
If you're planning to play Starfield on a Windows PC, you'll obviously want it to both run and look as good as possible. And that's why you need to take note of the game's minimum and recommended PC requirements.
Starfield Minimum PC Requirements:
OS: Windows 10 version 22H2 (10.0.19045)
Processor: AMD Ryzen 5 2600X, Intel Core i7-6800K
Memory: 16 GB RAM
Graphics: AMD Radeon RX 5700, NVIDIA GeForce 1070 Ti
DirectX: Version 12
Network: Broadband Internet connection
Storage: 125 GB available space
Additional Notes: SSD Required
Starfield Recommended PC Requirements:
OS: Windows 10/11 with updates
Processor: AMD Ryzen 5 3600X, Intel i5-10600K
Memory: 16 GB RAM
Graphics: AMD Radeon RX 6800 XT, NVIDIA GeForce RTX 2080
DirectX: Version 12
Network: Broadband Internet connection
Storage: 125 GB available space
Additional Notes: SSD Required
Make sure you dig into your computer's specifications, especially if you don't consider yourself an expert, to ensure your rig meets or surpasses these specifications.
There are websites out there that will tell you if your PC can run it and you may also want to consult other gamers on social media sites like Reddit.
Look Into a Starfield Premium Upgrade
If you purchase the Starfield standard edition, but decide you want the bonuses from the Premium edition, retailers are offering a Premium upgrade for $34.99.
This upgrade comes with the content from the Premium edition, but if you order a physical copy of the game, you'll also get the following items:
Steelbook Display Case (when purchased from participating retail stores)
Constellation Patch (when purchased from participating retail stores)
You won't get these items if you buy the digital version of the Premium edition upgrade.
For the uninformed, here's what the Premium edition gets you:
Starfield base game
Shattered Space Story Expansion (upon release)
Up to 5 days early access
Constellation Skin Pack
Access to Starfield Digital Artbook & Original Soundtrack
Shattered Space is a DLC pack. We don't know much about it right now, but our guide will take you through what you need to know about Starfield DLC right now.
Find Starfield Deals
We haven't seen a ton of Starfield deals emerge in the buildup to the game's release date, though we have seen sites, Green Man Gaming for instance, take 15% off the price of a copy for Windows PC.
We will see sporadic deals in the hours ahead so make sure you shop around before you click or tap buy. Monitor sites like Slickdeals for price cuts and other offers.
Prepare for Bugs
Bethesda claims Starfield has the fewest bugs of any game it has ever shipped. That's great news, but it doesn't mean the game will be bug free.
There are going to be Starfield problems, particularly at launch. This is a huge, complex game with lots of moving parts and bugs and performance issues are part of the deal.
Before the Starfield release date arrives, we highly recommend tracking down a place to find fixes for problems. A few places come to mind.
Bethesda's support site is a great place to bookmark in your browser ahead of the release date. So is the Starfield Reddit. Those two will be excellent resources when Starfield bugs and performance issues emerge.
If you're buying the PC version of Starfield, make sure you bookmark the Steam forums as well. There will be a ton of discussion there.
Read Up on Starfield's Skills
If you don't mind spoilers, you'll want to get acquainted with the different Starfield skills ahead of the game's release.
Picking the right skills could be crucial to your Starfield experience and the more you know about them ahead of time the better off you'll be. Of course it's sometimes fun to make mistakes and learn from them, but not everyone has time for that.
If you want to read up on Starfield's skills, head here. You'll also want to take a look at this thread from a user on Reddit. They spent 200+ hours putting together what they believe is the complete skill system.
Decide Which Platform to Play On
A few other tidbits for those of you trying to decide which platform to play on.
On console, Starfield will be locked at 30FPS. The game will have a 4K output resolution on the Xbox Series X and 1440p on the Xbox Series S.
If you want to play Starfield at 60 frames per second, you'll need to buy the PC version of the game. If you've always wanted to buy or build a gaming PC or laptop, now might be the time.
If you don't have an Xbox yet, note that Microsoft is planning to release a new 1TB carbon black Xbox Series S on September 1st, just in time for Starfield.
It's $50 more ($349.99) than the standard Series S, but that extra storage space could come in handy.
4 Reasons to Pre-Order Starfield & 4 Reasons to Wait
Pre-Order Starfield for These Bonuses
Starfield pre-orders come with some bonus items.
Bethesda calls the Starfield pre-order bonus the Old Mars Skin Pack and it applies to pre-orders for all versions of the game.
The Old Mars Skin Pack includes the following items:



Laser Cutter
Deep Mining Helmet
Deep Mining Pack
If you want access to these items, you'll want to pre-order a copy of the game before it arrives in early September.
As an Amazon Associate I earn from qualifying purchases.