Starfield DLC: 5 Things to Know Right Now
Bethesda's revealed the first Starfield DLC expansion and in this guide we'll take you through everything you need to know about it.
Starfield is a massive game and it has hours and hours, and yes hours, of content. There are over 1000 planets to explore, there are ship dogfights in space, there are factions, and there's obviously a ton of dialogue with a wide range of characters. There isn't a lack of things to do.
Of course, Bethesda won't stop there. Games like Starfield are meant to last years, decades even, and the company will provide a ton of content post-launch.
Some of that content will come in the form of mods. You can expect a robust modding community and mods will help prolong the life of the game.
Bethesda is also planning to release Starfield DLC, or downloadable content, that helps keep the game fresh and expands on the game's storyline.
Details are a bit scarce at the moment, here's what we know about Starfield DLC right now.
Starfield Shattered Space
Bethesda hasn't gone into how exactly it will handle DLC for Starfield, but the company has confirmed the game's first expansion.
The expansion is called Shattered Space and the company is calling it a "story expansion" which means it will tie-in with the game's storyline.
Look for the company to reveal more information about the Shattered Space DLC in late 2023 or early 2024.
While Shattered Space will likely serve as the first big piece of Starfield DLC, Bethesda says it plans to release more as time goes on. No surprise there given what the company's done with previous titles like Fallout 4 and Skyrim.
In an interview with IGN, Todd Howard says the plan is to add a lot more downloadable content. Howard says that much like past games, players can expect DLC of "varying sizes."
Starfield Shattered Space Release Date
While Shattered Space is confirmed, a release date for the DLC isn't. The company hasn't said anything about a date or a release window so there's no telling how long it will take for the content to arrive.
The company will focus on fixing bugs and performance issues out of the gate so we'd be surprised if the DLC landed anywhere close to the game's release date.
Bethesda released Fallout 4 in November, 2015. The company then released the game's first DLC expansion, dubbed Automatron, in March of 2016.
Bethesda could shake things up, but look for the first expansion to drop once players have spent a bit of time exploring the game and once the developer has ironed out some of the game's more serious bugs.
Starfield Shattered Space Features
Again, Shattered Space is a storyline expansion, but we don't know how it will continue the plot.
That being said, it's safe to assume the DLC will include new dialogue and new quests and we could potentially see new characters, planets, weapons, and more.
Bethesda probably won't confirm these details until we get much closer to the DLC's release date so we could be flying through space blind for quite awhile.
How to Get Shattered Space
If you plan to put hundreds of hours into Starfield, and you know you'll want to play the Shattered Space expansion, you can secure access to the expansion pack right now. Here's how to do that.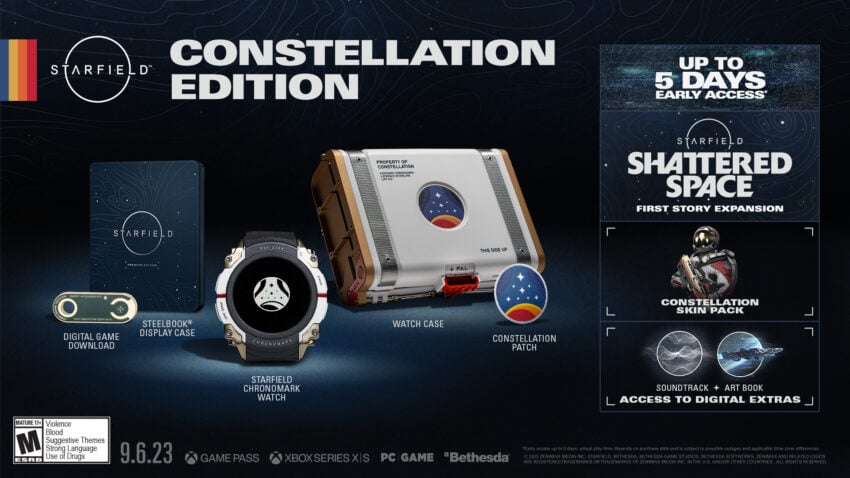 Two of Bethesda's Starfield editions grant you access to the DLC. You'll need to buy either the Premium edition ($99.99) or the Constellation edition ($299.99). There's also another way.
If you buy the Starfield Standard edition, but decide you want the content that comes with the Premium edition, retailers are offering an upgrade for $34.99. This upgrade includes access to the DLC and several other bonuses.
Starfield Shattered Space Price
If you don't want to upgrade to the Premium edition and/or the Constellation edition is too expensive, you'll almost certainly be able to buy the Shattered Space DLC as a standalone upgrade.
Bethesda hasn't gone into detail just yet, but there's nothing to suggest the DLC is exclusive to the Premium edition or Constellation edition. So it's safe to assume you'll be able to buy Shattered Space from the Microsoft Store or Steam just like DLC from other games.
We also don't know if Bethesda is offering a discounted price to those who pre-order these bundles because we don't know how much Shattered Space will cost as a standalone upgrade.
Again, the Premium upgrade is $34.99 so we'd expect the Shattered Space price to come in a bit cheaper than that given that the upgrade includes additional bonus items.
We won't know for sure until Bethesda reveals its plans.
4 Reasons to Pre-Order Starfield & 4 Reasons to Wait
Pre-Order Starfield for These Bonuses
Starfield pre-orders come with some bonus items.
Bethesda calls the Starfield pre-order bonus the Old Mars Skin Pack and it applies to pre-orders for all versions of the game.
The Old Mars Skin Pack includes the following items:



Laser Cutter
Deep Mining Helmet
Deep Mining Pack
If you want access to these items, you'll want to pre-order a copy of the game before it arrives in early September.
As an Amazon Associate I earn from qualifying purchases.